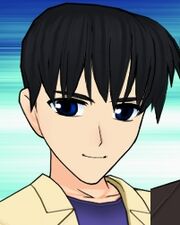 Background
Edit
Mamoru is the main character in Himatsubushi-hen and Matsuribayashi-hen. He is a young police investigator at the Metropolitan Police Department in Tokyo. He befriended Rika while investigating a case in Hinamizawa four years ago.
Fighting Style
Edit
Mamoru Akasaka is similar to Keiichi, being balanced in melee and ranged attacks. Of course, he doesn't have the range, nor the swiftness of his youth counterpart, but has a higher attack power and a slightly better defense.
First Weapon: Secret book of energy attacks
Second Weapon: Secret book of karate
Third Weapon: Secret book of setsuna DX Version Only

Ad blocker interference detected!
Wikia is a free-to-use site that makes money from advertising. We have a modified experience for viewers using ad blockers

Wikia is not accessible if you've made further modifications. Remove the custom ad blocker rule(s) and the page will load as expected.