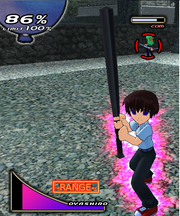 Hypermode is a state your character enters when the Hypermode bar (the large bottom left bar) is completely filled, and is shown by a coloured aura around your character. You choose which hypermode you want at the character select screen. This state can be entered manually by pressing the Special Key (Default: S Key). In the original version however, you automatically enter Oyashiro-mode as soon as the bar is maxed, This is not the case in the DX version. There are 2 types of Hypermode in Higurashi Daybreak, 3 in the DX Version. The original hypermodes are:
The DX Version introduced another hypermode:
See Also:
Edit
Ad blocker interference detected!
Wikia is a free-to-use site that makes money from advertising. We have a modified experience for viewers using ad blockers

Wikia is not accessible if you've made further modifications. Remove the custom ad blocker rule(s) and the page will load as expected.