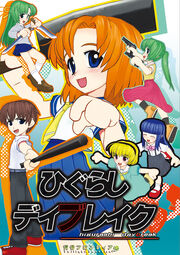 Higurashi Daybreak (ひぐらしデイブレイク, Higurashi Deibureiku) is a Japanese dōjin third person shooter developed by Twilight Frontier, first released on August 13, 2006 and is based on the popular visual novel Higurashi no Naku Koro ni. The game is Twilight Frontier's first attempt in making a 3D game. 07th Expansion, the creators of the original franchise, assisted in making the game — most notably, Ryukishi07, the writer of the original game, provided the script for Higurashi Daybreak. Also, this game uses the same voice cast as the drama CD of Higurashi no Naku Koro ni.
In the title, the "Bu" is made red (ブ), a practice similar to the original material. In Japan, the game is also called Hidebu, by taking the initials of the game (which, coincidentally, is homonymous to a well-known phrase in Fist of the North Star, where the nonsensical phrase is uttered by a fat grunt before he explodes).
Hirukowashi-hen of Higurashi no Naku Koro ni Rei, released on December 31, 2006, is a novelization of this game. Also, a related short story, "Higurashi Outbreak", was included in the original soundtrack of the game, which was released on April 22, 2007 along with the expansion Higurashi Daybreak Kai (ひぐらしデイブレイク改).
In April 2008, Alchemist announced that they will be porting Higurashi Daybreak to the PlayStation Portable. The port is scheduled to be released November 27, 2008.
See Also:
Edit