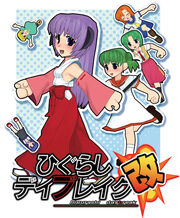 Higurashi Daybreak Kai (ひぐらしデイブレイク改) was announced and was released on April 22, 2007, in the convention Sunshine Creation 37. Aside from adding new
characters
and new teams, new features include a third new weapon for the original characters, new
costumes
, a
new stage
, a
third mode
to increase the limit gauge, and a functionality enabling observers in a netplay match. Minor balance adjustments were also implemented.
The "Kai" (改) in the expansion's title is a homonym to the "Kai" (解) in Higurashi no Naku Koro ni Kai, which is the title of Higurashi no Naku Koro ni during its answer chapters (and also the title of the second season of the Higurashi anime).
All the extra features are below.
Pages in category "DX Version"
The following 14 pages are in this category, out of 14 total.
Ad blocker interference detected!
Wikia is a free-to-use site that makes money from advertising. We have a modified experience for viewers using ad blockers

Wikia is not accessible if you've made further modifications. Remove the custom ad blocker rule(s) and the page will load as expected.